Planear antes de digitalizar
consideraciones de conservación en proyectos de digitalización de acervos documentales
Palavras-chave:
Digitalización. Conservación. Preservación. Lineamientos de conservación. Archivos y Bibliotecas.
Resumo
La digitalización ha sido, durante las últimas décadas, una de las estrategias más utilizadas para cumplir con parte importante de la misión de instituciones que resguardan acervos documentales. Resulta común, que al planear proyectos de digitalización de acervos documentales se preste especial atención a los requerimientos técnicos para producir y almacenar las imágenes generadas, y no se dé tanta prioridad a las necesidades de conservación que los ejemplares a digitalizar presentan antes, durante y después de dicho proceso. Este texto plantea lineamientos fundamentales para minimizar los riesgos y eliminar los posibles daños que pudieran tener los diversos tipos de documentos durante su digitalización, considerando aspectos que van de lo general, como la importancia de la planeación y la organización institucional para la elaboración y ejecución de los proyectos, el establecimiento de criterios y la toma de decisiones, hasta cuestiones más particulares como lineamientos específicos, requerimientos técnicos y recomendaciones desde el punto de vista de la conservación a lo largo del proceso. 
Referências
BIBLIOTECA NACIONAL DE COLOMBIA. Proyecto Biblioteca Nacional Digital, Versión 4. Bogotá: Biblioteca Nacional de Colombia [2018]. Disponible en: https://bibliotecanacional.gov.co/es-co/Footer/Documents/Plan%20Digital/Biblioteca%20Digital%20Nacional.pdf. Acceso en: 23 oct. 2020.

COTENNDOC. Subcomité de Normalización para la Preservación Documental. Norma Mexicana NMX-R-100-SCFI-2018: Acervos documentales - Lineamientos para su preservación. México: Universidad Nacional Autónoma de México, Instituto de Investigaciones Bibliográficas, Instituto de Investigaciones Estéticas, Instituto de Investigaciones Sobre la Universidad y la Educación; Benemérita Universidad Autónoma de Puebla; Grupo Tares; 2019.

DEAN, J.F. Digital imaging and conservation: Model guidelines. Library Trends, [s. l.], v. 52, n. 1, p. 133-137, 2003.

HAIN, J.; SHAW, E. Planning for preservation during mass digitization projects. Libraries and the Academy. [s. l.], v. 11, n. 2, p. 717-739, 2011.

IFLA (International Federation of Library Associations and Institutions); ICA (International Council on Archives). Directrices para proyectos de digitalización de colecciones y fondos de dominio público, en particular para aquellos custodiados en bibliotecas y archivos. Traducido por el Grupo de Trabajo de Colecciones Digitales de las Comunidades Autónomas y el Ministerio de Cultura. Madrid: Ministerio de Cultura; 2005.

LIBRARY OF CONGRESS. National Digital Library Program and the Conservation Division. Conservation implications of digitization projects. [1995]. Disponible en: http://memory.loc.gov/ammem/techdocs/conserv83199a.pdf. Acceso en: 23 oct. 2020.

LLADÓ-BUISÁN, V. M. Conservation approaches to the digitisation of collections at Bodleian Libraries: supporting and preserving. Conferencia presentada en la National Diet Library of Japan, dic. 2016. Disponible en: https://www.ndl.go.jp/jp/preservation/pdf/forum27_text1-2.pdf. Acceso en: 23 oct. 2020.

PARIS, J. Asking the right questions: The role of the conservator in Digital Projects. Liber Quarterly, [s. l.], v. 18, n. 2, p. 310-320, 2008.

SALGADO, S.; RODRÍGUEZ, D. Proyecto hacia la Biblioteca Nacional Digital de México. Inédito, 2017.

SITTS, M. K. (ed.). Handbook for digital projects: A management tool for preservation and access. Andover, MA: Northeast Document Conservation Center; 2000. Disponible en: https://www.nedcc.org/assets/media/documents/dman.pdf. Acceso en: 23 oct. 2020.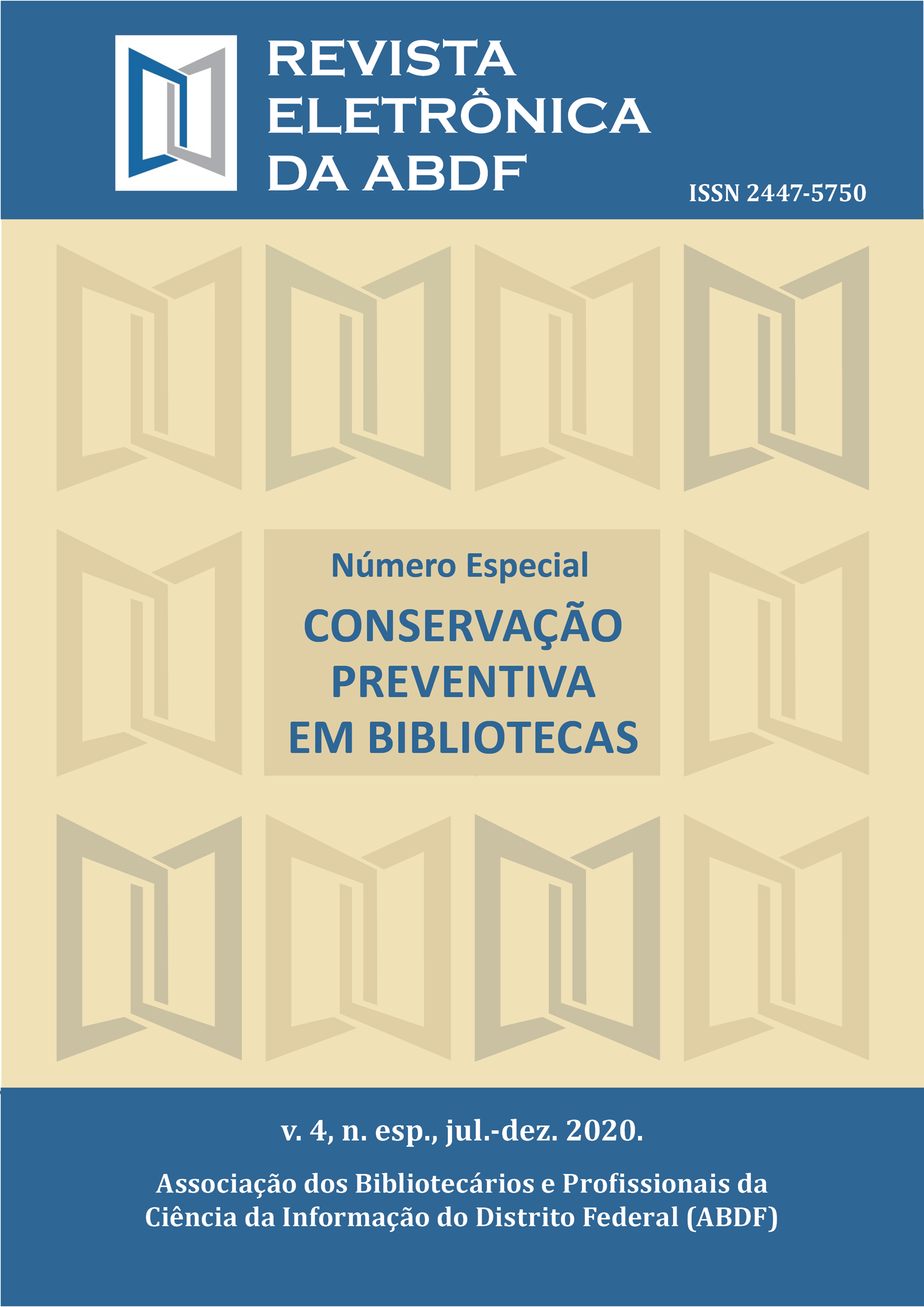 Como Citar
ODOR CHÁVEZ, A. Planear antes de digitalizar. REVISTA ELETRÔNICA DA ABDF, v. 4, n. Especial, p. 342-361, 26 nov. 2020.